SnapShooter is a cloud backup and recovery solution. Use SnapShooter to back up servers, volumes, databases, and applications from DigitalOcean and other cloud providers.
---
Back up DigitalOcean Volumes Block Storage daily or hourly with SnapShooter. SnapShooter uses the DigitalOcean API via OAuth authentication to take backups and prune them on your behalf.
Configure Automatic Volume Backups
First, connect your DigitalOcean team to your SnapShooter account. Then, from the SnapShooter app, in the left menu under Snapshots, click DigitalOcean, then click Volumes.
Any volumes on your team are visible in the Volumes section. When you initially connect your team, this appears as a list of Inactive volumes, which means there are no backups configured for them. Volumes with SnapShooter backups enabled are listed under the Active tab.
To activate backups for a volume, click the Activate button to the right of volume Droplet you want to back up to go to the configuration page.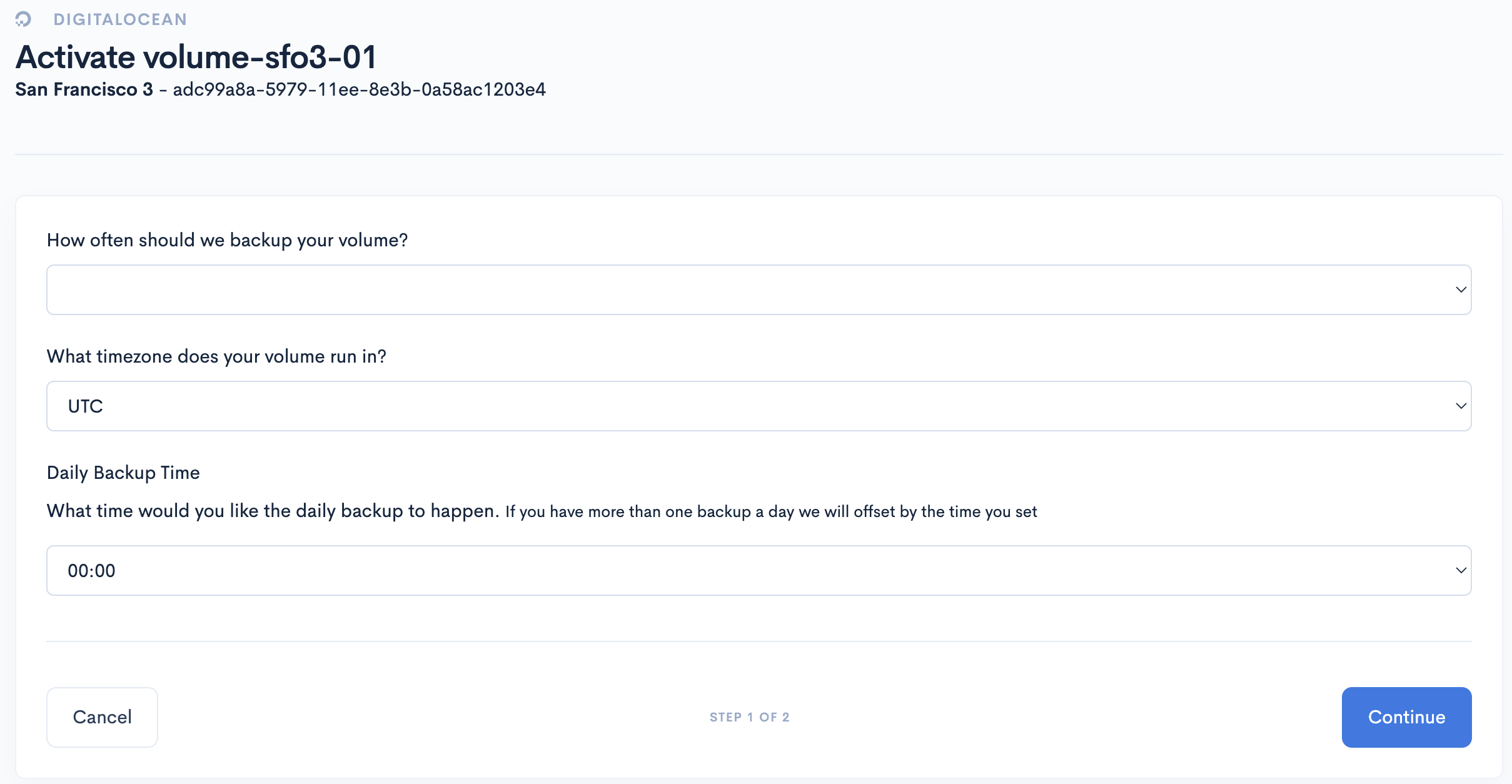 Fill out the fields for backup frequency, backup time, and time zone. If you create backups more than once per day, we count your time zone and daily backup time as the tag for the daily backup.
After you fill out the fields, click Continue to go to the Retention Policy page.
When we take a backup, we tag them daily, weekly, and monthly. On this page, you can choose how many of each to keep. We recommend 7 days, 4 weeks, and 12 months respectively as a starting point.
Finally, click Start Backups.
After you set up automatic backups for a volume, you can view the status of the volume's backups by clicking View to the right of the volume in the Active tab. This page lists the following information:
Server details, including its IP address and datacenter.
Backup details, including its frequency, backup retention, and cost.
Snapshots, which is a table of all completed backups with information on its status (completed or expired), the start time and duration, tags (manual, daily, weekly, or monthly), regions, and size. You can also manually delete snapshots here by clicking the Delete button.
Manually Back Up Volumes
You can manually back up any Droplets with automatic backups enabled.
From the SnapShooter app, in the left menu under Snapshots, click DigitalOcean, then click Volumes. Find the volume in the Active list and click View to go to the SnapShooter volume page.
On the SnapShooter volume page, in the Backup Details section, click Snapshot Now. This immediately starts a backup.