Check Your Cloud Firewall Settings
Misconfigured DigitalOcean cloud firewalls often cause network problems. If you're having trouble connecting to your Droplet or connecting to the internet from the Droplet, check your cloud firewall settings before reviewing your Droplet's network configurations.
In this step of the Connectivity Troubleshooting Guide, you will:
Review your Cloud Firewall rules to ensure that the firewall is not blocking your attempts to connect to the Droplet.
If you don't have a cloud firewall, skip to the Next Steps section.
Check Your Cloud Firewall Rules
To check your firewall settings from the control panel, click Networking, then click the Firewalls tab. The page lists the firewalls set up in your account. Click the firewall protecting your Droplet and review your firewall's rules.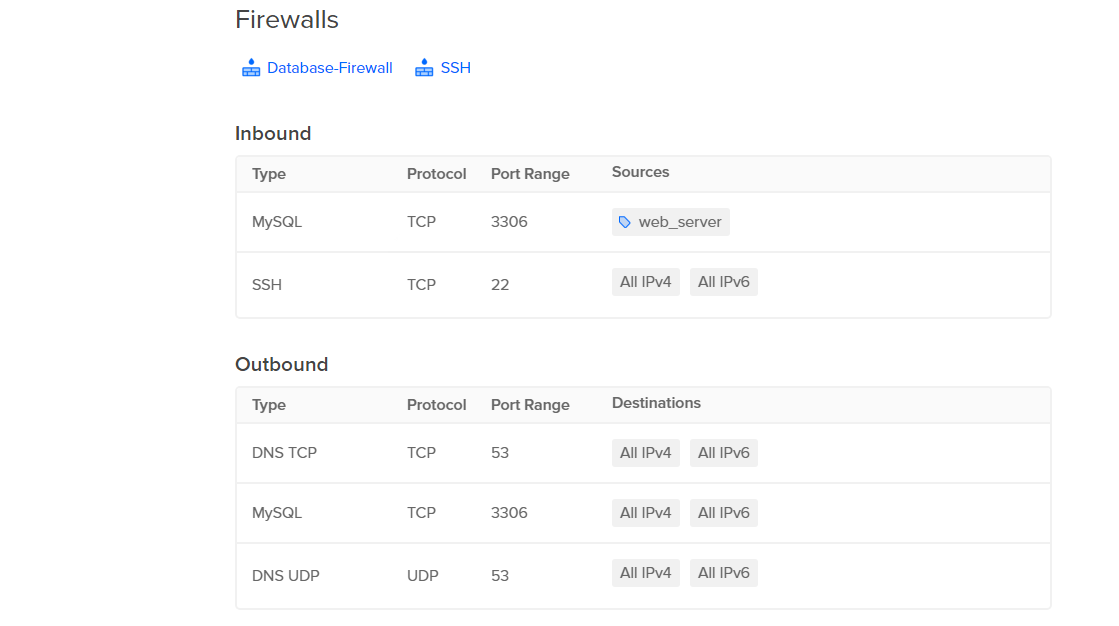 The Inbound Rules section displays the types of traffic that are allowed to reach your Droplet. The firewall blocks any traffic from sources not explicitly listed in the inbound rules. For example, if your Droplet is linked to a firewall in your account and the firewall's inbound rules do not list an SSH rule, the firewall blocks any attempts to connect via SSH.
The same concept applies to the firewall's Outbound Rules, the firewall blocks any traffic from the Droplet not explicitly listed in the outbound rules.
If you can't reach your Droplet via a specific connection type or you can't reach the internet from your Droplet via specific connection type, configure a firewall rule allowing that type of traffic to reach or exit the Droplet.
Next Steps
If you've checked your cloud firewall and have found no errors in its configuration, proceed to the next step and check your Droplet firewall.